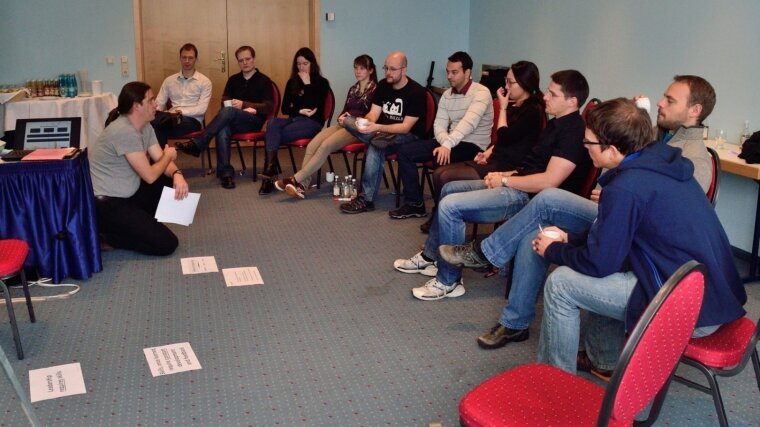 Winter school 2013
This winter school focused on topics like entrepreneurship, proposal-writing, or creativity techniques.
The Thuringian project OPTIMI has established the Graduate Research Schools "Optical Microsystem Technology (OMiTec)" and "Green Photonics", as part of the central graduate education units at the Technical University Ilmenau and, of course, at the Abbe School of Photonics. The qualification concept of OMiTec is based on interdisciplinarity and a strong focus on specific training units, which are relevant to the students' immersion into the working environment of selected German photonics companies.
This Winter School 2012/2013 was designed to evoke the entrepreneurial spirit of our researchers. The course, "A market full of opportunities", offered a personal encounter with the job prospects available in the existing labor market. The seminar on "Copyright and Related Rights" was intended to provide ways of thinking about how to best utilize your research results to secure intellectual property rights. Further, the essentials for a successful proposal were analyzed in the course "Grant Acquisition". Finally, as the focus of a complemental workshop, the Winter School introduced different creativity techniques and how to use them.
Grant Acquisition - How to Produce a Winning Proposal
This workshop provided an overview about our main funding schemes, as well as a chance to learn the practical skills of composing a winning proposal. It illustrated the process with the example of the European Union's 7th Framework Program (FP7) for research. The skills acquired in this school are transferable to other types of programs supporting research. The course was, therefore, particularly valuable to young-career researchers.
A Market Full of Opportunities
Physicists, especially those with a particular application-oriented approach, are generally facing very good job opportunities. Like academic research institutions, industrial companies are always looking for talented newcomers. Additionally, the consulting industry invites further consideration with attractive perspectives and ideas for your own business creation. With plenty to choose from, young graduates need orientation to make good job decisions in order to avoid unbalanced expectations, and this course was just that.
Copyright and Related Rights
The seminar's emphasis lay on:
Technology transfer from university - the rocky road to further processing
Getting started - European and international research funding for graduate students and postdocs
Scientific and technical legal protection for research at universities
Creativity Techniques
This workshop introduced the concept of "creativity, thinking techniques and blockades". It offered the possibility to learn about adjunctive methods, like brainstorming, mind mapping, 6-hats method, creative writing, bisociation, or the Osborn method, as well as corresponding practical exercises about how to support learning gain.